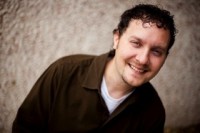 The very first kidmin blog I ever found was Jamie Doyle.  I had known Jamie when we were both in Minnesota, but I didn't find his blog until early last year.  It was then that I realized what I had been missing.
Jamie has been blogging since 2005, well before a lot us started our blogs, but he does not blog a lot.  I wish he would blog way more than he does, because when he does it is usually great stuff.  I have been challenged a number of times by stuff he has written.  This post is actually one of the reasons I decided to start this blog.
A couple of things about Jamie.  He is insanely creative and hilarious.  You cannot be around him without laughing.  He is also a very talented illusionist and juggler.  He has used those skills to perform all over and has taught various classes and workshops as well.  Jamie also tells it like it is.  His blog is honest and poignant.  He is passionate about kids' ministry and those who are doing kids' ministry.
If you're looking for a minimum commitment blog (one that you don't have to read everyday) that will challenge you in new ways, check out JamieDoyle.com.  You will not be disappointed.  While you're at it, follow Jamie on twitter.com/jamie_doyle.  He is also very active at kidology.org, so you might run across something of his on there too.
Serving Him together,
Jared